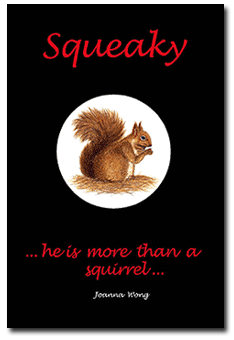 Squeaky I
PUBLISHER:

Email: admin@banjoandsons.com
Address: Blk 78
Guan Chuan Street,
#01-35 Singapore 160078
Tel: 65-6536 0689
Fax: 65-6536 6390
ABOUT THE BOOK – SQUEAKY I
Disappointed by a cancelled vacation and left mostly to explore the gardens in their new home, Brandon and Bryan chanced upon a common squirrel, which is most certainly most uncommon.
Together with Squeaky, the squirrel, the boys venture far and wide beyond the universe's parallels, even going deep into the Earth's core as they seek knowledge in the name of adventure.
Along the way, the boys discover their inner selves as well as their surprisingly strong bonds of brotherhood. Their deeply buried inculcated values are reawakened with Squeaky mentoring his young charges in the most incredible circumstances.
Joanna Wong's Squeaky takes adventures to new heights and depths as she artfully crafts a delicious blend of fact, fiction and moral values – ensuring a most entertaining and educating read for young and old.
---
BOOK REVIEWS
"Superbly magical and enchanting. A delightful read."
Darell Pang, age 10 years
Bukit Panjang Primary School

"A fascinating tale with a new adventure in every chapter"
Priscilla Loh, age 12 years
St. Nicholas Girls' School
"Captivating. It has enough description to allow the reader to visualise the scenes in the book."
Melissa Ho, age 13 years
CHIJ Secondary School (Toa Payoh)
"Very exciting … I feel like I'm part of the story"
Vivekha d/o Vellan, age 11 years
Clementi Primary School
"Interesting! Superb! (Instant liking of the story.) Addictive!"
Lionel Ho, age 13 years
St Gabriel's Secondary School